Welcome to a special secret that will make your trip to São Miguel shine even brighter! By reading these words, you've unlocked a hidden gem on our website: a 10% voucher to be used on your online booking of a vehicle or motorcycle to explore the roads of the Azores!
Designed for you, a true travel enthusiast, we provide a treasure map that will guide you to an incredible experience on the Island of São Miguel with a gift from Azores Easy Rent. Did we mention that we are Easy? Indeed, we are, and below you'll find the steps to use your voucher. We haven't mentioned it yet, but we're also a team of amazing people who love their customers and remember to create opportunities like this. We want to get to know you and share our love for this Island!
Step 1: Treasure Revealed
You are now part of something exclusive. You've found a 10% discount voucher to be used on your vehicle or motorcycle reservation that you'll use to enjoy the splendid roads of São Miguel Island, stopping at every enchanting viewpoint, every delightful restaurant, and every trail wrapped in Nature. So, nestled within these lines, you find your unique discount code to use as a voucher on your booking: azoreseasysecret4wheels or azoreseasysecret2wheels depending on if you're traveling by car or motorbike. Write it down as you would a valuable treasure.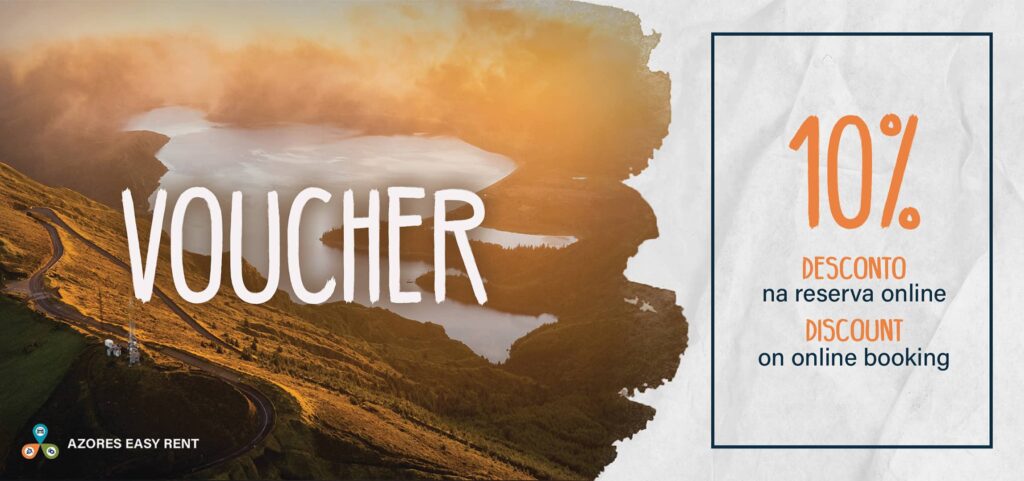 Step 2: Set the Plan in Motion
Now that you have the code, the next step is to unlock the discount on your adventures along the island's wonderful roads, exploring Forests and Volcanoes from Sete Cidades to the Village of Nordeste. Explore our site, choose your dates and the vehicle that will take you to amazing places. Apply the discount code during your online booking and watch the magic happen: the price adjusts, paving the way for a memorable, yet more affordable journey. This discount was our way of inviting you to experience the Azores behind the wheel of a car or motorcycle, provided to you by our fantastic staff, through a modern, fast, and transparent process. It's no accident that we are Azores EASY Rent. Are you booking your flight yet?
Step 3: Unveil and Discover
With your booking in hand, you're ready to unravel São Miguel's secrets. Discover the history of the Mother Church of Ponta Delgada, explore the paradisiacal landscapes of the Ribeira Grande Municipality, be amazed by the charms of the Furnas Valley, and by the magic of the Lagoa do Fogo and Sete Cidades volcanoes. This Island is full of serene surprises, vibrant Nature, and people passionate about their paradise. Have you been to many places like this? We haven't, and that only makes us more eager to share it with you and whoever accompanies you on this adventure to this archipelago in the middle of the Atlantic!
It's time to make your trip even more special: use your Voucher and unlock a 10% discount on your trip to São Miguel Island, in the Azores.
Do you still need a map with the best secrets of São Miguel? Check out the Google Maps list specially created by our fantastic team: https://azoreseasyrent.com/en/postagens/what-to-do-in-sao-miguel-azores/
Still need to better plan your adventure? Check out our FAQ page, it will surely speed up the process: https://azoreseasyrent.com/en/faqs-2/
Remember, this hidden jewel is yours to use. Turn it into unforgettable experiences as you venture through the island's roads and paths. Redeeming the discount is easy and opens the door to unveil a map that will take you on an extraordinary journey that will surely enrich your album of memories!
Search for your dates and book here using the voucher: https://azoreseasyrent.com/en/home/#reservas