Locals often say that in the Azores you can experience "all four seasons in a single day" and indeed the weather in the Azores can change in the blink of an eye!
The geographical position of the islands bestows this paradisiacal place with unique subtropical conditions, and it's not unusual to experience a cycle of sun-rain-sun-rain within a few hours. It's also common for it to be sunny in Ponta Delgada but cloudy just a few kilometers away in Ribeira Grande. On the other hand, stable mild temperatures throughout the year and inviting sea temperatures mean that any time of the year is good for renting a car or motorcycle with Azores Easy Rent to explore the magic of São Miguel Island.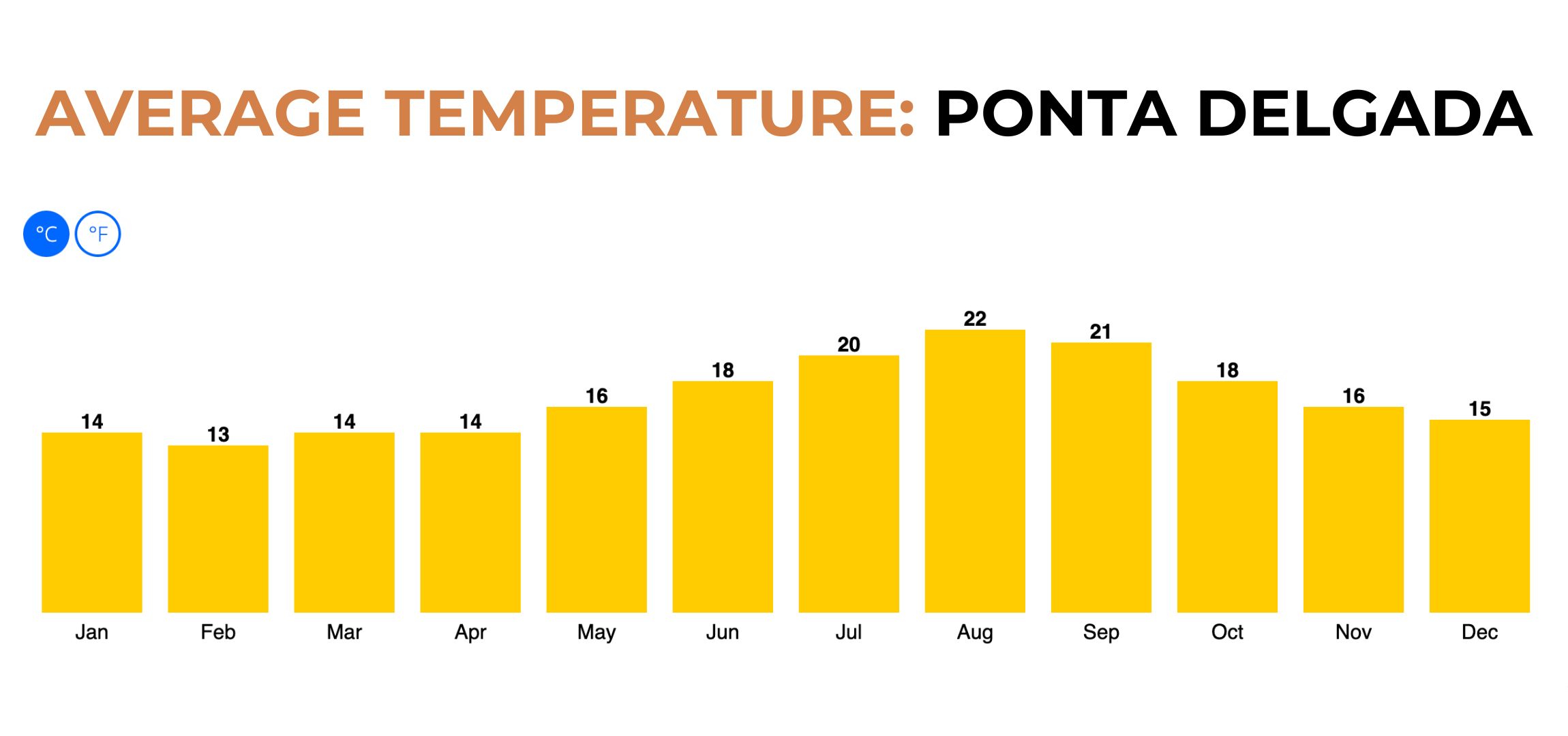 First off, don't worry because we're here to help you unravel the meteorological mysteries of São Miguel Island. With our help, you'll always know what to expect and how to make the most of your stay. Many travelers bring set itineraries for their trip, but our local experience starts with this tip: keep your plan flexible, as the unpredictable weather often necessitates changing plans and seeking out places where the weather is more pleasant.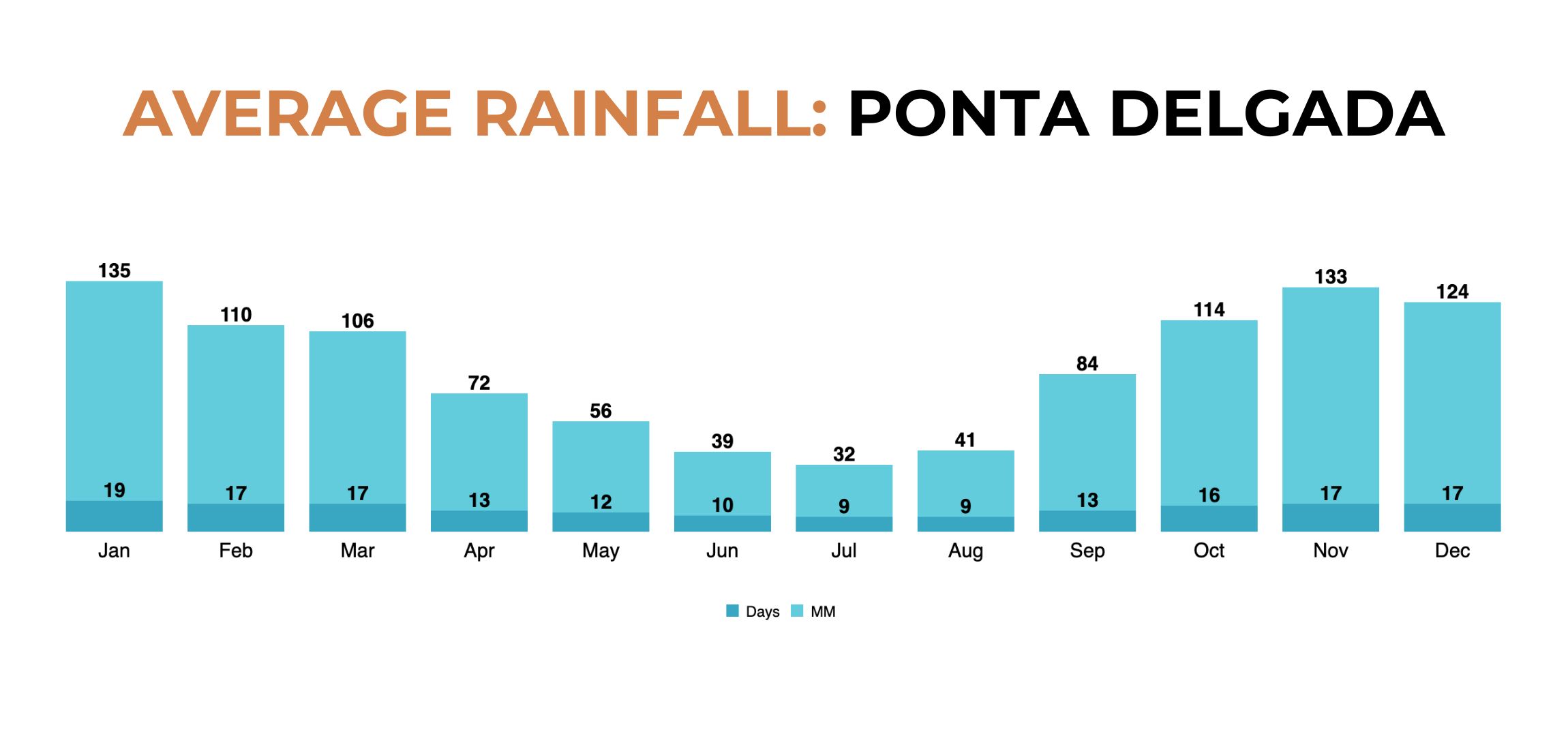 Stunning landscapes in all seasons: remember, even with a bit of rain or wind, the landscapes of the Azores always maintain their beauty. Enjoy the low clouds and mystical views throughout the year. But first, we give you an overview of the climate in the Azores over the year: August is the hottest month (22°C/72°F) and February the coldest (13°C/55°F). If you like rain, visit the Azores in January (135mm of rain) and if you enjoy swimming in the sea, the best month is August, when the water temperature is a pleasant 24°C (75°F).
Reliable Forecast: But what to do when you're already here? Always check the weather forecast before heading out for your daily adventures with your Azores Easy Rent vehicle. In addition to the standard websites on your smartphone, we recommend Windguru, our most trusted choice for weather forecasting in the Azores. It includes forecasts for temperature, wind, rain, and sea conditions. You can access it by clicking here: https://www.windguru.cz/66626
Azores Easy Rent Golden Tip: Once on the island, wake up in the morning, and the first thing to do while having your morning coffee is… visit spotazores.com. This platform, created by Azorean entrepreneurs, features over 40 webcams strategically placed around the Azores, with a special focus on São Miguel Island. Here you can check the weather in real-time in different locations and decide your destination for the day or where to head after lunch or when it starts raining. You can access it by clicking here: https://www.spotazores.com/ilha/s%C3%A3o-miguel/
Appropriate Clothing: With sudden changes in the weather, it's important to be prepared. In the trunk of your Azores Easy Rent vehicle, we recommend you always carry options for all occasions: sunscreen, a beach towel and swimsuit, a waterproof jacket, an umbrella, sports shoes, and flip-flops, and it's also convenient to have extra clothes in case you get wet. This way, you can easily adapt to the weather conditions and not miss anything on your trip.
Adaptable Exploration: As suggested above, be prepared to adjust your activity plan based on the weather. If it's raining, why not visit a museum or a local tea, cheese, or liquor production? Visit our Google Maps list with places suggested by Azores Easy Rent staff for when the weather calls for alternatives. We have suggestions for sunny days, cloudy skies, or even persistent rain. The island has much to offer, regardless of the weather. Click here to access the Google Maps list: https://goo.gl/maps/EbXvfxyEBQhAwFuE7
With Azores Easy Rent, you'll be prepared to face any weather that São Miguel has to offer. Rent a vehicle with us and set off on your adventure with confidence. Let's unravel the meteorological secrets of the island together!
Still need to better plan your adventure? Check out our FAQ page, it will surely speed up the process: https://azoreseasyrent.com/en/faqs-2/
Search for your dates and book here: https://azoreseasyrent.com/#reservas